Policies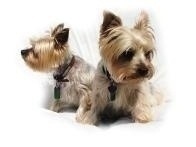 It is our goal to ensure each guest has a safe, enjoyable visit and that each pet returns home healthy. Therefore, the following policies have been adopted.
A veterinarian's current health record or receipt showing current Rabies, DHPP, and Bordetella vaccinations is required for all services.
Puppies must be over 16 weeks old and current for their age on vaccinations and de-wormed to stay.
Pets must have been regularly treated for internal parasites and with a flea and tick preventative. Pets found to have fleas or ticks will be treated at owner's expense.
A $5 per day surcharge will be added for any unaltered male or female over 6 months of age.
A $5 per day surcharge will be added for pets requiring extra medical supervision including over 3 medications, any injection including insulin, or redressing bandaging.
All guests are enrolled in Well Pet Guarantee for $1 per day.
A deposit equal to the first night's rate is needed to reserve your pet's suite/condo. The balance of your pet's vacation is due at check-in.
Check out time is noon. Guests are welcome to stay the rest of the day and play. Half day daycare charges will be applied to check outs after 12pm.
Please allow at least 30 minutes before closing for check in and at least 15 minutes before closing for check out.
Before and After-hours services for check in and check out are available. A $25 fee will apply.
All pets will be evaluated for off leash group play (unless individual playtime is requested). Play is supervised all times. Pets are grouped by size, temperament, and play style. If a pet is not suitable for group play or a parent requests individual play only, a $5 per day charge will be added to stay if classic amenities were chosen.
Pets found to be dangerous to other animals or staff will be confined. A parent will be contacted to arrange for pick up.
For their safety, pets that jump or climb fences will be required to stay in suite with a covered private yard at the current rate for that available suite.
If the food supply you provide is exhausted a bag of one of our wholesome foods or a food run for your pet's regular food will be added to your bill.
You are welcome to bring comfort items from home to leave with your pet. Please label all belongings. Please do not leave breakable items. We are not responsible for lost or damaged items, but will do our best to make sure your pet's goodies go home with him/her.