Our Story
Welcome to our story! We are excited you have taken an interest in learning the history and vision of Le Chateau Pet Resort and that you are considering joining our team of exceptional people. We are always looking for friendly, compassionate, career-minded individuals who can share our vision.
We hope you find our story answers all your questions about why we do what we do and what positions are available that may be a good fit for you to be a part of our team. You will find an application link at the bottom. Once you have completed the application please email it to hr@lechateaupetresort.com. We will contact you for an interview if a position opens that matches your desired position, skillset, or experience.
Thank you. We value your time and consideration.
How we began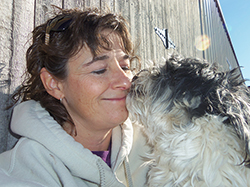 Many years of compassion and service to animals began our history. Aside from being an animal lover all of her life, Dawn Hallgren, the owner of Le Chateau Pet Resort, served as a volunteer and board member of various rescue groups in Amarillo. Fostering over a hundred animals within a couple of years, Dawn found joy not only in knowing these animals had a second chance, but also in caring for and loving many four-legged friends. Playtime was the best! Watching the animals interact and socialize was fun and rewarding. Sometimes neighborhood animals would even come over to join the fun.
Having a degree in business and accounting, Dawn's "day job" was much less rewarding though she was satisfied that she was making a difference for people using the knowledge and skills she had obtained. It was Dawn's dad, Michael, that really set the dream in motion. Michael encouraged Dawn to look into owning and operating a pet business to utilize her business skills and combine it with her passion for animals. Dawn knew there were people who adored their pets as she did and would appreciate the peace of mind she could provide with the concept they had in mind for pet boarding. Making a difference for animals while helping people was Dawn's dream and now goal.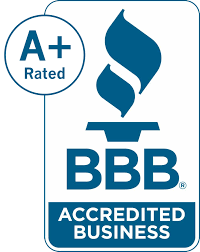 Our Concept
As Dawn began her business plan and design she looked for ways to meet the following objectives:
Provide a place where pets would have fun and be well cared for in safe, healthy, and comfortable environment
Minimize pet's stress being away from home by providing a pleasant environment and lots of attention and activity
Provide peace of mind for parents so they didn't feel guilty for boarding pets
Provide extraordinary customer service
Dawn thought about what she would want for her own animals and what would give her peace of mind so she could enjoy a trip away from home. She knew she wanted them to be comfortable in a pleasing environment with plenty of room. Playtime was very important. Aside from the exercise and fresh air, playing with other dogs would be fun and make the time away from home enjoyable for her pets. She wanted them to be safe and well so cleanliness and supervision during group play were a must. She didn't just want them to be boarded, she wanted them to have a vacation!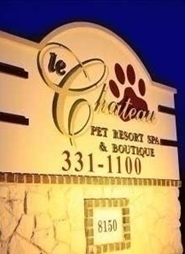 Since Le Chateau Pet Resort would primarily be a hotel, it would be important to provide a fun vacation for pets staying overnight. To provide more peace of mind, a trusted staff member would stay overnight so the animals weren't ever left alone. Cuddle time and gourmet treats would be included with premium suites for an extra special service. Televisions would be in some suites to provide the sounds of home. Trained pet guardians would provide fun and safe supervised playtimes several times a day. To keep playtimes safe, pets would be evaluated and divided into groups by size and play style. Technicians would provide daily housekeeping of suites just like a hotel so every day pets would have a clean suite to rest between playtimes. They would also act as concierge to assist parents with pets and luggage when checking in or out. Certified bathers and groomers would make sure pets went home squeaky clean after their fun-filled vacation.
Along with the hotel experience for the pets, it was also important to provide extraordinary customer service. This meant providing everything possible to help pet owners feel peace about leaving their pets. The front line, the receptionists, would help clients from the first phone call, tour, and ultimately check in of their pet to have peace of mind that they have chosen the perfect place for their pet's stay. They would describe our services to emphasize important features they wouldn't find anywhere else and encourage tours anytime during lobby hours. Hours would be convenient for parents allowing for early, late, and weekend check ins and outs. Parents would be encouraged to bring anything they wanted their pets to have during their stay, and welcomed to go back with their pets to get them all settled in for their stay. We would provide extra amenities for those who wanted them, and webcams to watch playtime. We would include playtime and interaction with pets as part of the vacation so they didn't have to pay extra for the loving attention we would provide for their pet. We would get to know our clients and express our sincere appreciation that they have shared their special companion with us!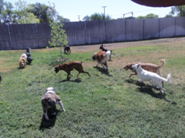 Daycare and training were important services Dawn wanted to offer. Working in rescue, she had many sad experiences in which people were not adopting a new pet, but rather giving up their own pet, often simply due to training issues or unmanageable energy levels. By offering these services, she hoped to encourage pet owner's to experience the benefits of training as well as socialization and activity to provide an energy outlet for their pet. Positive reinforcement training combined with daycare or during a stay would provide the foundation for pets and family members to maintain a successful relationship.
The design
Designing the building, Dawn "listened" to her pets and visited other facilities for pros and cons of design. Recognizing see through barriers were often a source of agitation and stress for dogs, she decided to provide suites in a single row with windows rather than other dogs on the other side of the hallway. She wanted each animal to be able to enjoy indoor/outdoor access from their own suite and to have a plenty of room and natural light. Each suite had a doggie door and window, and the private yard allowed for privacy just like the inside of the suite. To further reduce stress, the original design avoided outdoor yards facing other animals also. Each hallway was designed the same way with various sized suites and a kitchenette. If people wanted to bring the food they cooked at home for their pets we were going to provide it!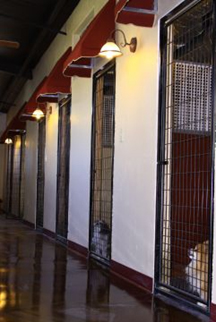 Having clean fresh air was important so purifiers that contained UV bulbs to kill germs were included on every hallway and in the cat lounge. Play yards were designed to feel like a backyard with natural grass, trees, and plenty of room to run. Water play would be provided in a beach entry pool with an 18" deep end for some splashing and wading fun during the vacation. With playtime being a priority, it was also necessary to include an indoor play area so bad weather couldn't stop playtimes.
The cat lounge ended up with an outdoor kitty yard when one of Dawn's kitties at home would run out the back door every chance she got to climb a tree and watch birds. So the design included large kitty condos, with bird watching by tv, an aquarium for fish watching, and outdoor covered yard with a tree!
A spa was included to top off the "resort" experience so pets could get a bath, massage, or hairdo before checking out to go home. To complete the hotel feel of the design, a lobby was included to function not only as an area to check in and out, but to allow a shopping opportunity similar to a specialty boutique.
With the design and business plan in hand Michael and Dawn went to their family banker to share the concept in November of 2008. By December, the perfect piece of property was purchased, and on January 16th, 2009 they broke ground. Repeatedly, contractors would tell Dawn she could save money and house more animals by putting suites on both sides of the hallways. She stayed true to the design that was more about the comfort of the animals and the quality of their stay than the quantity. Acting as general contractor, Dawn had her share of setbacks during the building stage, but determined to open the resort doors by summer she pushed, and the first guests arrived for the Memorial Day holiday in May 2009. On June 5th, she and staff celebrated with members of the Amarillo Chamber of Commerce in a grand opening and ribbon cutting. By July 4th weekend the hotel was full!
The ongoing dream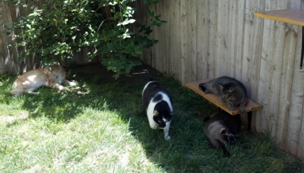 Every concept imagined was put in place. The rewards were happy satisfied clients and tail wagging dogs that bounded into the doors of Le Chateau Pet Resort! Even the kitties seemed to enjoy their stay! Clients began to share stories of how excited their pet got when they knew they were coming to the resort. Jack Falk's mom called one morning in a whisper on the phone asking if Jack could come play for daycare. When answered "Of course! We would love to have him!" she was asked if she was feeling okay. She said she was fine, she just had to hide to call because if Jack heard his name it was over, he wouldn't stop bugging her with his leash until they left! Clients shared that their pet would go from sleepy to whining and wagging when they made the turn to the resort, or that when they saw us on tv they would actually watch the tv! So many fun stories and happy pets let us know we were doing the right thing.
Today, our vision is still alive. It is still our goal to maintain a safe, clean, comfortable, and fun environment that is not only enjoyable to the pets in our care, but pleasing to our clients as well. We hope every team member will see the vision and realize every task they do, no matter how small or large is vital to the big picture and keeping our vision a reality!
Our services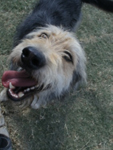 Our services include overnight boarding, limo service, supervised daycare, positive reinforcement training, bathing, gourmet bakery, and specialty boutique. We also have a pet loss service to honor the lives of pets, called Heaven's Rainbow Bridge, which maintains a landscaped pet cemetery. We look forward to adding more services to help our clients and their pets including a dedicated concierge, grooming, a crematorium, and a members only dog park that includes activities for pets and people to bond. We also hope to add an online store to reach potential clients who would be interested in ordering from our boutique. Ultimately, it is our goal to take our concept to other towns and cities where are services are needed.
Our clients
Our clients are the ones who want the best for their fur babies and have means to provide just that. They are the ones who seldom or never went on a vacation because they never had peace leaving their pets. They are the ones who have left their pets, but worried the entire time away from them and failed to enjoy their trip. Our clients are the ones who just need to know someone is loving their pet in their absence.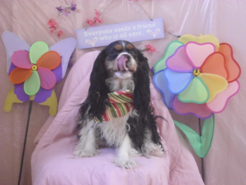 Clients like the Murrays. Emma and Missy, two sweet Cavaliers were the fur babies of a school teacher and banker. The Murrays simply didn't take vacations because they just couldn't see leaving their babies and run off on a trip. They felt they would be abandoning their children. Having heard about Le Chateau Pet Resort from business associates they decided to check it out. When they popped by they were greeted by friendly professionally dressed team members that were happy to give them a tour. After seeing the four different sized suites and the two sides of the hotel, the Murray's decided to book the Premium Royal Suite for their pet (in the beginning they had only Missy). Missy would stay in an 8 x 8 suite with doggie door access to an 8 x 10 private yard. She would have a television in her suite and hear movies like 101 Dalmatians and Lady and the Tramp. She would have a raised scroll diner and a nice canvas bed. On the first day of her arrival, the friendly staff greeted Missy by name and took her picture for her suite card. Then Missy's luggage was listed. She liked sleeping in her comfy "room" when mom and dad were at work, so they decided to bring that with her, as well as her favorite toys and her Kong that we would fill for her during the noontime treat service. Mom went back to get Missy's suite all set up for her stay. She was a little worried about leaving, but truly felt Missy would be well cared for and enjoy a vacation of her own.
During their trip, Mom called a couple of times to see how Missy was doing. After checking with the pet guardian, the receptionist has happy to report Missy was doing wonderfully in her play group of other calm kiddos. She was also enjoying being loved on during group time and the special cuddle time and gourmet treat she got before bed from the overnight team member. Mom was able to relax and enjoy the rest of her vacation knowing Missy was in good hands.
Upon their arrival to pick up Missy, they were so excited to see her clean and happy when she greeted them. Every time after that Missy was happy and wagging her tail when she would arrive at Le Chateau for her vacation! One time she was so excited when she came in to play, she went running into Dawn's office for a happy greeting and gobbled up a not so strategically placed breakfast burrito. Missy thought that was a special treat!
We have so many stories we can share about the many wonderful clients and their fur babies we get the opportunity to serve. As a part of our team the opportunities to meet and love precious treasures our clients entrust to our care are endless!
Our staff
Our trained, professional, and compassionate staff members are the real reason Jack, Missy, and so many others have a fun vacation and why their parent's truly enjoy peace of mind when they are away from home. If you are considering joining our staff you are probably an animal lover also, and are hoping to find a place you can give of yourself in a meaningful job that is satisfying, rewarding, and fulfilling. You may even be seeking a career in animal care. At Le Chateau Pet Resort, we not only have opportunities for part time job seekers who would like to work around animals, we have job paths that can lead to a fulfilling career in your future!
The Le Chateau Pet Resort team consists of the following positions and career paths:
Advancement Opportunities
All job areas include a path that would allow an individual to possibility to advance through the path and all required training to the management team. All members on the management team are required to lead by service and respect having worked in each department and learned the detail ways we work on a daily basis to reach our goals of guest safety and fun and extraordinary customer service. Each member oversees a particular department with quality control, guest well-being, and client satisfaction as their main objectives. Positions would include Back End Manager, Front Desk Coordinator, and Operations Manager.
In addition to the management team, members of the administration team are available to assist members on their chosen career path. The Human Resources Director is available to answer questions, explain benefits, and assure a safe and harassment free work environment.
Other career opportunities at Le Chateau Pet Resort include janitorial/maintenance staff and bookkeeping personnel.
Our continued vision
It is our joint vision to continue to offer the absolute best care possible for our guests and the most extraordinary customer service available. We want every guest to have the same clean comfortable suite they would have the day we opened and every client treated in the same friendly manner, sincerely appreciative they chose to share their special companion with us! We want to take time to get to know and love each pet and give them a fun, safe vacation every time! With every team member realizing their tasks are not just something to do and get paid for, but that their effort has purpose and value in reaching and maintaining our vision every team member provides a vital contribution to reaching our goals.
With continued growth to include more services and new facilities, there is an opportunity to grow with our company.
If you are compassionate, friendly, and energetic,
If you are in good physical condition and enjoy indoors and outdoors alike,
If you are self motivated and pay close attention to details,
Le Chateau Pet Resort may be a perfect place for you to invest your time, energy, and skills!
If you would like to be considered for a position on our team, please complete the application. You will be called for an interview if your application can be matched with our team needs.
Dawn has said many times, if you find the work you love you will never work another day in your life. We look forward to hearing from you!
Click below for employment applications! Please email your applications to hr@lechateaupetresort.com!
Job Application